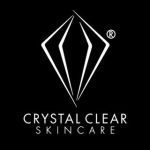 Crystal Clear COMCIT Elite is our new skin rejuvenation system, incorporating our 'Cryo-Oxygen Microchanneling Collagen Induction Therapy' (COMCIT) with industry-leading Microdermabrasion technology.
COMCIT is an effective and advanced system, which offers 4 simultaneous modes of action all designed to stimulate Collagen Production.
Cryo Oxygen – Near freezing cold oxygen is pushed into the skint stimulate, energise and cool the skin to make the treatment pain free.
Micro-Channelling – Creates micro channels in the epidermis/dermis junction to kick start a heal response process.
Topical infusion – of active rejuvenating ingredients – are more effectively pushed into the skin layers as they have tiny channels to penetrate through.
Oxygen infusion – A healthy and radiant skin is a breathing skin, where oxygen exchange between the cells functions perfectly. All living cells in the epidermis require and consume oxygen.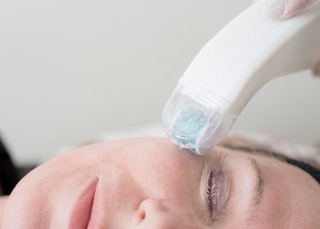 Instantly smooth, fresh, firmer, plumper and more youthful skin.
Reduced lines and wrinkles.
Tauter, more rejuvenated skin.
Promotion of new Collagen growth.
COMCIT Treatments
H2O Glow – 60 minutes £85
The H2O glow facial delivers freezing cold oxygen throughout the epidermis to nourish and invigorate skin cells, while the COMCIT roller allows Hyaluronic Acid to reach deeper dermal layers via micro-channels: plumping and rebalancing the skin from inside out.
The Frozen Facial – 60 Minutes – £90
The most effective and advanced skin rejuvenation treatment yet, tackling lines, wrinkles and pigmentation. Enjoy a full cleanse and gentle exfoliation, followed by our ground-breaking COMCIT treatment, using Cryo Oxygen and Micro Rollers to infuse the skin with a potent Infusion, tailored to tackle your skins concerns and stimulate collagen production. Then lie back while your therapists applies a Crystal Clear face mask to suit your skin type, giving you an extra hit of hydration, firming and lifting.
 Elite Frozen Facial – 75 minutes – £100
Add a Beauty Flash microdermabrasion treatment to your face and neck before your Frozen Facial, for the ultimate results driven facial.
Microdermabrasion
The celebrities' favourite, Crystal Clear is THE original Microdermabrasion brand.
By gently exfoliating the skin with Aluminium Oxide Crystals, Microdermabrasion can be used to solve a wide range of skin conditions on the face and body.  Rejuvenating, smoothing lines and wrinkles, brightening dull, dehydrated skin and tackling blackheads and pores.  It's also very effective for reducing acne scarring and pigmentation caused by sun damage.
Microdermabrasion Treatment – 60 minutes – £60
Skin is expertly cleansed, Microdermabrasion tackles lines, wrinkles, pores, blackheads and dull skin, then our super repair mask is applied to hydrate, nourish and firm.
Beauty Flash – as a preparation treatment to Micro-Lifting or Oxygen – £15
Oxygen Therapy
Oxygen Serum and our pure Oxygen technology are used to;
Rejuvenate skin from the inside out.
Plump out lines and wrinkles.
Lift and firm lax skin.
Soothe and calm breakouts.
Reduce inflammation acne.
Hydrate skin giving an instant glow.
Oxygen Therapy – 60 minutes – £65
Ideal for dehydrated and dull skin.  This refreshing and smoothing treatment starts with a full cleanse and Oxygen exfoliation, then skin is lifted and plumped using our intense anti-ageing Oxygen Serum and Oxygen Therapy Machine.  A soothing face mask is applied, and a relaxing pressure point scalp massage to ease away any tension.
Acne Relief – 60 minutes – £65
Let the healing, anti-bacterial power of Oxygen work it's magic on problem skin.  Enjoy an expert cleanse and gentle exfoliation, then our powerful Oxygen Serum and Oxygen Therapy Machine are used to soothe and clm inflammation.  Moisture is locked in and skin purified with a Crystal Clear face mask, chosen to suit your skin type.
Deluxe Oxygen Therapy – 75 minutes – £80
An unrivalled luxury for tired, ageing skin.  Lie back and have your tensions soothed away with a mini back massage, then revel in our Oxygen Therapy Facial, followed by our Mini Lift Mask for extra firming and hydration.
Chopstick Facial – 55 minutes – £55