Yoga Timetable (from 1st January 2018)
Tuesday 9.45 -10.45am: Beginners Yoga with Ying
Wednesday 18.30-19.30: Beginners Yoga with Ying
Thursday 17.15-18.15: Beginners' Yoga with Ying
Thursday 18.30-19.30: Flow & Yin Yoga with Ying
Friday 9.45 – 10.45: Gentle Flow Yoga with Ying
Classes cost £8 (drop-in) or £65 for a 10-class pass (valid for 6 months).
Please note: if you book a class and cancel with less than 24 hours' notice you will forfeit a class from your pass.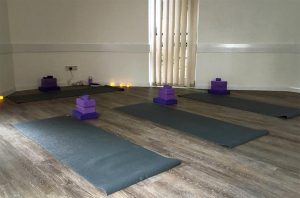 Summer time  Yin Yoga and meditation – 25th March 2018 18.00 – 20.00 £18
As the British Summer Time turns, lets get our bodies and self ready for this transition time change.
This workshop incorporates Yin Yoga – a slow paced yoga style, where we hold the poses longer, targeting the connective tissues within the body and guided meditation.
Refreshments after and time to chat.  Please book and pay in advance to secure your mat as places are limited.