Yoga Timetable (from 1st January 2018)
Tuesday 9.45 -10.45am: Beginners Yoga with Ying
Wednesday 18.30-19.30: Beginners Yoga with Ying
Thursday 17.15-18.15: Beginners' Yoga with Ying
Thursday 18.30-19.30: Flow & Yin Yoga with Ying
Friday 9.45 – 10.45: Gentle Flow Yoga with Ying
Classes cost £8 (drop-in) or £65 for a 10-class pass (valid for 6 months).
Please note: if you book a class and cancel with less than 24 hours' notice you will forfeit a class from your pass.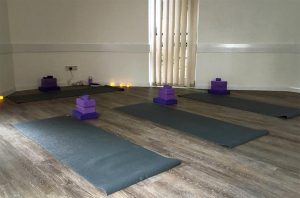 Candle light Yin yoga and gong bath – 20th May 6pm – 8pm £25
Come and join us for a lovely  time to just reconnect back to yourselves….
Slow paced yoga with the sound washing over you, how perfect to end a week on, ready for the new week ahead.
Please message or call to book in, as it's limited spaces, we are also asking for advance payment of £25. each to secure your space.
Namaste 🙏
Summer Solstice Yoga and Gong – 21st June 6pm – 9pm £25